W
hat makes a person an individual — attributes or memories? Are you you because you grew up in Florida, or because you can sink a basket from the three-point line? Is your essence expressed in your deep brown eyes or through the stories you learned from your father, who happens to have eyes like yours?
These philosophical questions loom large in the age of increased awareness of dementia, a condition that seems to erase the long-cultivated self. Glen Campbell, one of the greatest country artists of the modern era, has given fans and the general public a gift in openly sharing his own experience of dementia; now, with the album Adiόs, he offers what might be the first musical document of the changes it creates in a human being.
Adiόs tells the story of Campbell's remarkable life through song, dwelling on compositions he has long treasured but mostly had not previously recorded. One is this bluegrass-blessed ballad, "Arkansas Farmboy," inspired by Campbell's rural origins and written in the late 1970s by Campbell's longtime banjo player Carl Jackson, who produced Adiόs in collaboration with Campbell's wife and children.
Jackson's lyrical images of a home overrun with weeds, and of a man's memories growing just as wild, become in this setting more than just another take on home and hearth; it's a cry from inside the experience of memories growing at once more vivid and more disordered — as they do for everyone, but especially for someone like Campbell. And the golden voice, Campbell's greatest musical attribute, remains: His singing communicates pathos and grace in equal measure.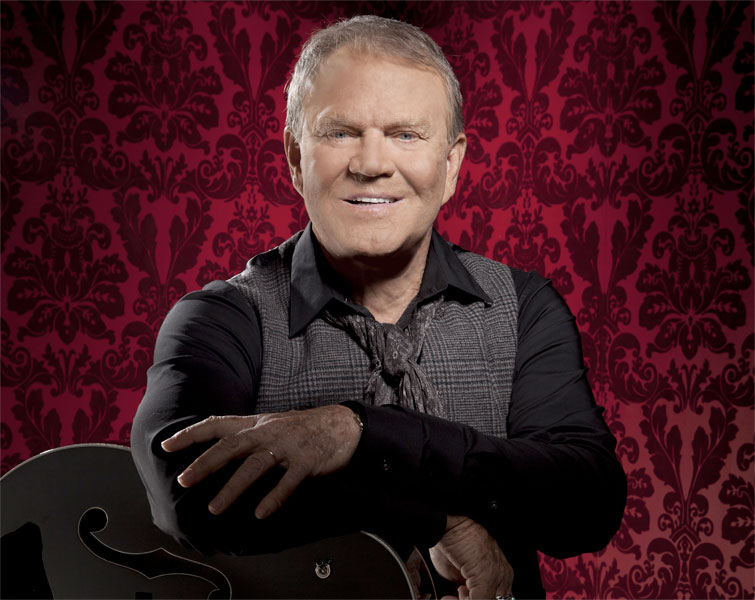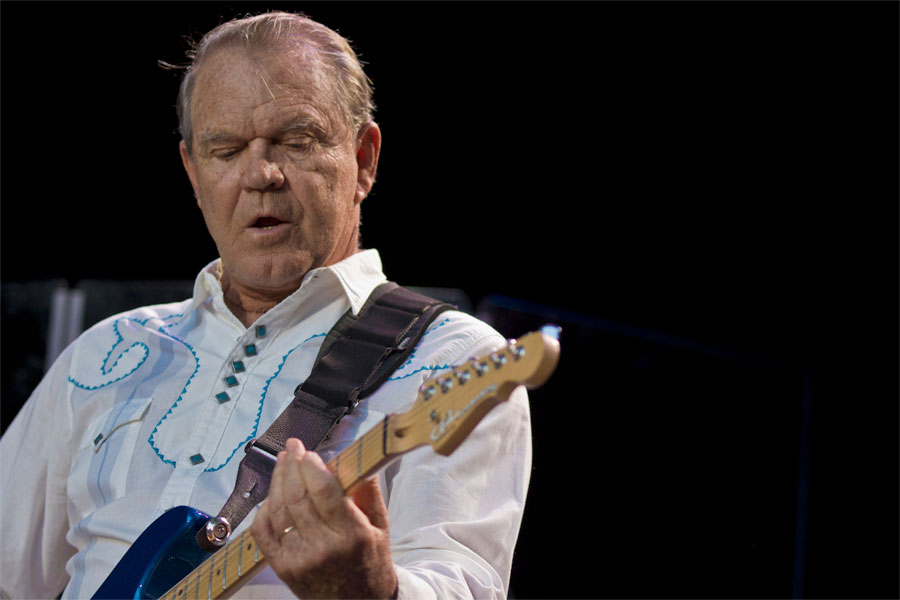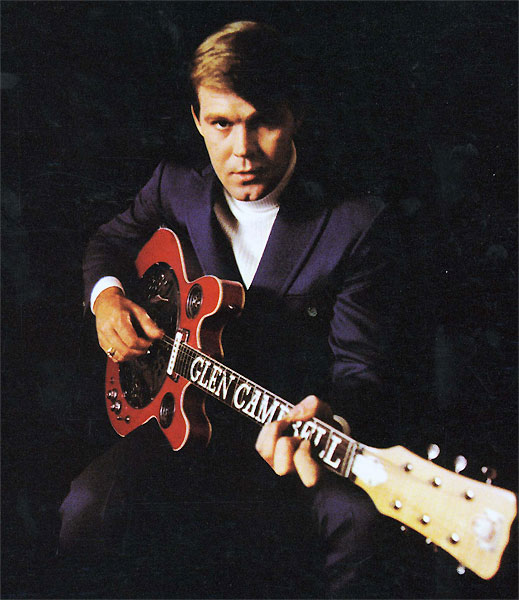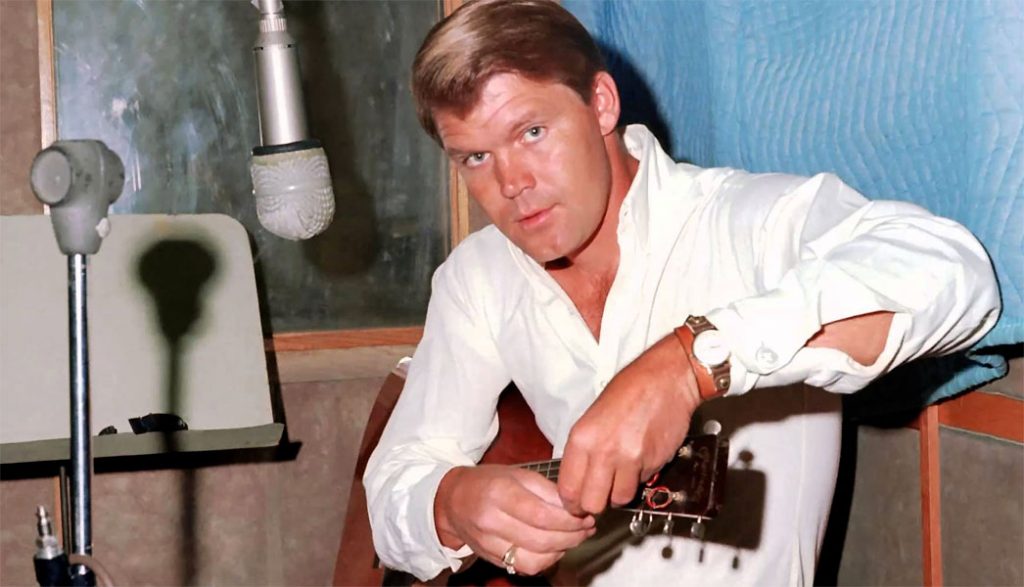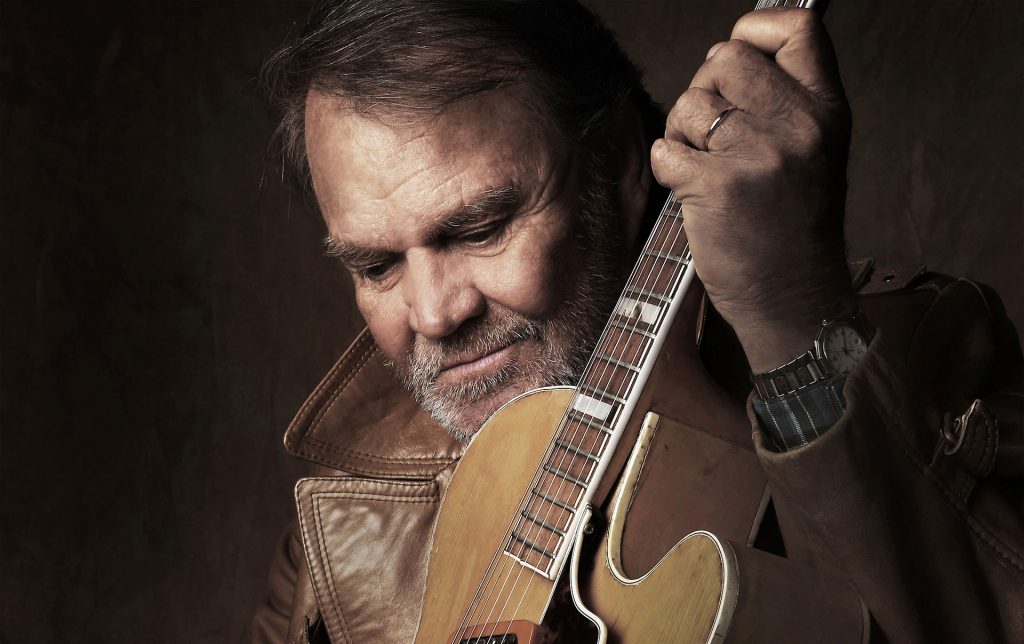 Anyone old enough to remember the late 1960s and early '70s is probably old enough to remember Glen (Travis) Campbell.  His radio hits included such famous melodies as "Rhinestone Cowboy", "Southern Nights," and the "Wichita Lineman" to name just a few.  His roots, of course, are in country music.  Yet he was also one of the first artists to crossover from country to pop, landing hits on both Billboard charts.
Its perhaps no small irony that in the 2015 Grammy Awards, Glen Campbell also won a sixth (and in all likelihood, final) Grammy of his career, as he was honored with Best Country Song at the 2015 Grammy Awards Premiere Ceremony, which is the presentation of the off-camera categories not included in the  regular broadcast. "I'm Not Gonna Miss You," is a bittersweet tune he co-wrote with Julian Raymond for a 2014 documentary called "Glen Campbell: I'll Be Me", and his new song managed to trump songs by Kenny Chesney, Eric Church, Miranda Lambert and Tim McGraw with Faith Hill.
Back in the late 1960s and early 1970s, Glen Campbell was relatively good-looking, being both clean-shaven and clean cut (the antithesis to where popular culture was in those days, and especially among fellow country artists at the time), perhaps a comparison could be made to someone like today's country star Luke Bryan.  Campbell was native of Arkansas, so could make a legitimate claim that he had country bona fides, plus he was also a high school dropout, not uncommon among country music artists of that era.  But he left Arkansas (and more than 10 brothers and sisters) at age 16, staying for a time in New Mexico before settling in Los Angeles, where he struck it big in the music business.
Aside from Patsy Cline, who became more famous posthumously than she ever did when she was alive, hardly anyone in country had even considered going mainstream.  Only a handful achieved crossover success (and usually by accident), including Johnny Cash.  It was kind of an unspoken rule of Nashville music producers (and record labels went along — as long as artists were selling records) that crossing over was not something the country music industry saw as appropriate or supported.
But Glen Campbell didn't let any of country's traditional taboos stop him.  In the process, he won five (now six) Grammy awards, seven Academy of Country Music awards, and three American Music awards, and sold over 50 million records worldwide.  He was inducted into the Country Music Hall of Fame in 2005.  He may well be one of the first crossover artists, and was unapologetic about that, unlike some country "purists".  He even once had a TV show "The Glen Campbell Goodtime Hour", in which he used his commercial clout and down-home Arkansas charm to give face-time to lesser known artists he personally admired, such as Willie Nelson, who was best known for his scrappy beard and generally unkempt appearance.
As part of his crossover appeal, Mr. Campbell once toured with The Beach Boys, and even acted in a few movies – including 'True Grit' with screen legend John Wayne.  But over the years, his story was more one of tabloid fodder, including multiple failed marriages.  In fact, in the late 1970's, Campbell and rising teen country singer Tanya Tucker began a tumultuous affair which did not end happily if the tabloids were correct.
But in 1982 Campbell married Kim Woolen, who helped lead him to sobriety and stability, though he suffered a relapse in 2004 when he was arrested for drunk driving and sentenced to ten days in jail. His problems with alcohol and drugs became headlines for tabloids like the National Enquirer back in the day, but ultimately, he found a spouse who got him to clean up his act.  Supposedly, that also caused him to find God, whatever that means – "finding God" has become a true cliché that many celebrities use, so its unclear what that means.
A Diagnosis With Alzheimer's Disease
In 2011,  in the liner notes to his then-new album, entitled "Ghost on the Canvas", Glen Campbell wrote that this is "the last studio record of new songs I ever plan to make."  At the time, some industry observers noted that listeners could tell his voice really wasn't what it used to be, and that he was showing signs of age.  But they were missing an important part of the story.
When he did his national farewell tour, Mr. Campbell had just been diagnosed with Alzheimer's Disease, therefore he fully expected he'd be unable to record or perform his music ever again.  Today, Glenn Campbell is living in a Nashville long-term care facility that has people on staff who can care for him around the clock.
Like all Alzheimer's patients, he likely has brief periods of recall, followed by long periods where he doesn't remember anyone or anything at all.  Most famously, former President Ronald Reagan also had Alzheimer's at the end of his life.  In 2004, wife Nancy Reagan said famously at a dinner sponsored by the Juvenile Diabetes Research Foundation (JDRF):
"Ronnie's long journey has finally taken him to a distant place where I can no longer reach him. Because of this, I'm determined to do whatever I can to save other families from this pain. I just don't see how we can turn our backs on this."
Mrs. Reagan was, of course, speaking about embryonic stem cell research, something both she and the JDRF both supported.  The term "embryonic" is a misnomer; it involves blastocysts that are created in-vitro (in a laboratory), many created for the sole purpose of reproduction, but which are ultimately discarded as medical waste, usually because the fertilization procedure was successful, although some owners may choose to donate them for the explicit purpose of research.
Mrs. Reagan was extremely critical of then-President George W. Bush's decision to limit Federally-funded stem cell to a only a dozen or so stem cell lines, some of which proved to be unusable, created by the arbitrary date that he announced the policy, but he and his advisor Karl Rove was eager to make a key voting constituency happy.  That type of restriction was championed by social conservatives, yet it retarded a promising scientific avenue.  (California voters took matters into their own hands by starting the California Institute for Regenerative Medicine [CIRM] http://www.cirm.ca.gov/ which is not dependent on the vicissitudes of Federal policy driven by political ideology, but is funded by the State of California, which ranks as the world's seventh largest economy in its own right).
Those initial research restrictions placed on cell lines President Bush were subsequently expanded a bit after President Barack Obama took office, but because this type of research remains controversial in the eyes of some, it remains in a precarious situation because of politics, not because of the science.  For the record, I don't believe Mr. Campbell ever went on record as to what his view on the issue of stem cell actually were.
Back to Glenn Campbell's Alzheimer's diagnosis ….
Glenn Campbell was not shy in acknowledging his new reality, so he felt his farewell tour was bittersweet, both for him and his fans.  Knowing his diagnosis, in his farewell tour, Mr. Campbell allowed cameras to follow him throughout the tour, including behind the scenes.  The result became a feature-length movie called "Glen Campbell: I'll Be Me" [http://glencampbellmovie.com/] which opened on October 24, 2014.