The date of their first concert is tattooed on the hand of Alison Mosshart. It was February 14, 2002. Fifteen years later, the group's DNA remained the same: a provocative voice, a fragmented guitar playing, and a rudimentary rhythm box.
A
formula made unique by their deep and creative complicity. Jamie Hince and Alison Mosshart play the enigmatic card first, nicknamed VV and Hotel on a raw and rough sounding first album inspired by PJ Harvey and Velvet Underground. Without betraying their singularity, The Kills were able to evolve album after album. Yet not one of them sounded like the previous one. "In an effort to not repeat ourselves, the path of least resistance has never been ours. Change is uneasy. Art should be uneasy," says Alison Mosshart, sitting at a long wooden table in her rented house above Los Angeles' Griffith Park, where she's been residing for a month, right next door to her musical partner Jamie Hince.
While I'm very much on record as believing The Kills, 2008 release Midnight Boom to be a superb album, I'm sure part of that was due to the fact that it was the first Kills record I'd heard. Their reputation to that point was as a garage-blues-scuzz-punk rock duo and that's not generally my thing, so discovering them to be – at least on that record – all those things but also exceedingly pop was a most pleasant surprise. But this shift in direction, while garnering new fans like myself, probably cost them some as well. Such is the karmic balance of the universe.
And with their debut album Keep On Your Mean Side, The Kills that those longtime fans fell in sleazy lust with was fully on display. Whereas Boom had me wondering how the duo would recreate all the sounds and textures in a live setting (answer: quite well), there'd have been almost no such question circa Mean Side. Besides some basic drums, Mean Side is all about VV, Hotel, two guitars and a healthy dose of sneering attitude. The prevailing aesthetic is loose and raw, like delta blues by way of The Velvet Underground, and made noteworthy by Hince and Mosshart's remarkable presence. The songs aren't all that memorable individually, but collectively they create a definite atmosphere – gritty, grimy and driving – and while what they're doing isn't exactly fresh, their execution and charisma command attention.
When their second album, No Wow, brought them to international prominence, the impression was that they were a band out of time, with a personal sound, that does not wink at this or that group of fans. Garage-rock? Yes, maybe, maybe not … Lo-fi? Well, Yes, technically, maybe, but that means in terms of sound?
No Wow was solid, stripped back, a raw boned piece of garage blues-rock. There is an obvious comparison is the White Stripes. No Wow seems to attempt to bring together PJ Harvey's entire body of work, with Mosshart sounding too often like a karaoke copy of the south coast queen of avant-garde rock. The similarities make it impossible for any fan of PJ Harvey to dislike No Wow, but equally, it's difficult to judge the album on its own merits. Lead single "The Good Ones" has the pop sensibilities of the To Bring You My Love era, "I Hate The Way You Love" nods towards Uh Huh Her, "Rodeo Town" is desolately-driven like Is This Desire, while the title track touches on that most emotionally tough of PJ Harvey's offerings, Rid Of Me.
Only the spectacularly sparse closing "Ticket Man" and the blues heavy "Sweet Cloud" escape with any semblance of originality intact, and even they sound like they were born in the London studio that produced The White Stripes' Elephant.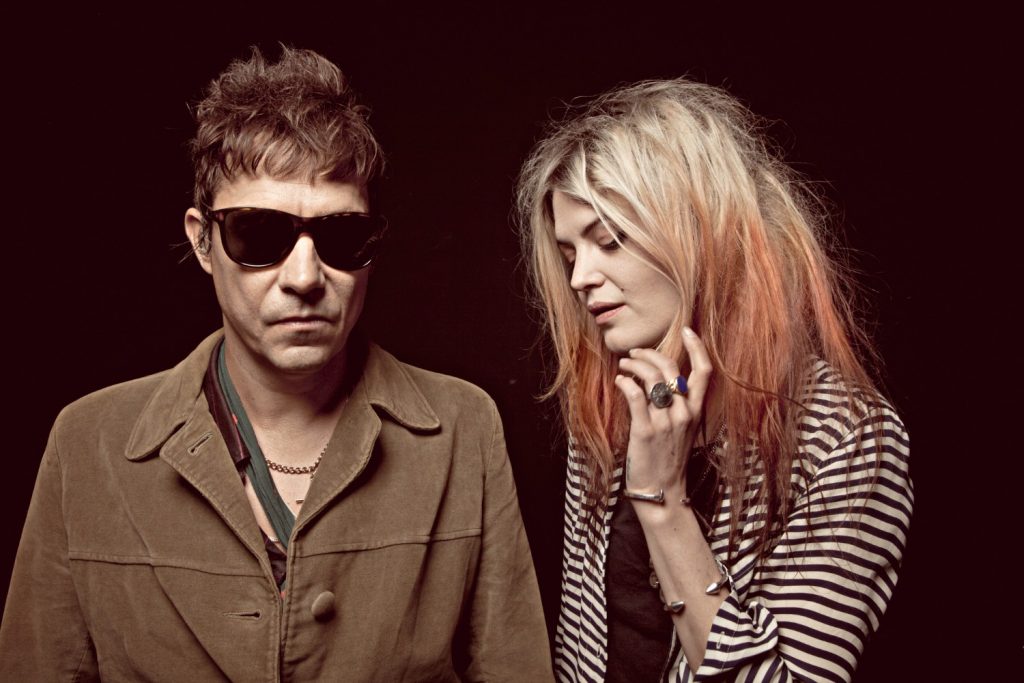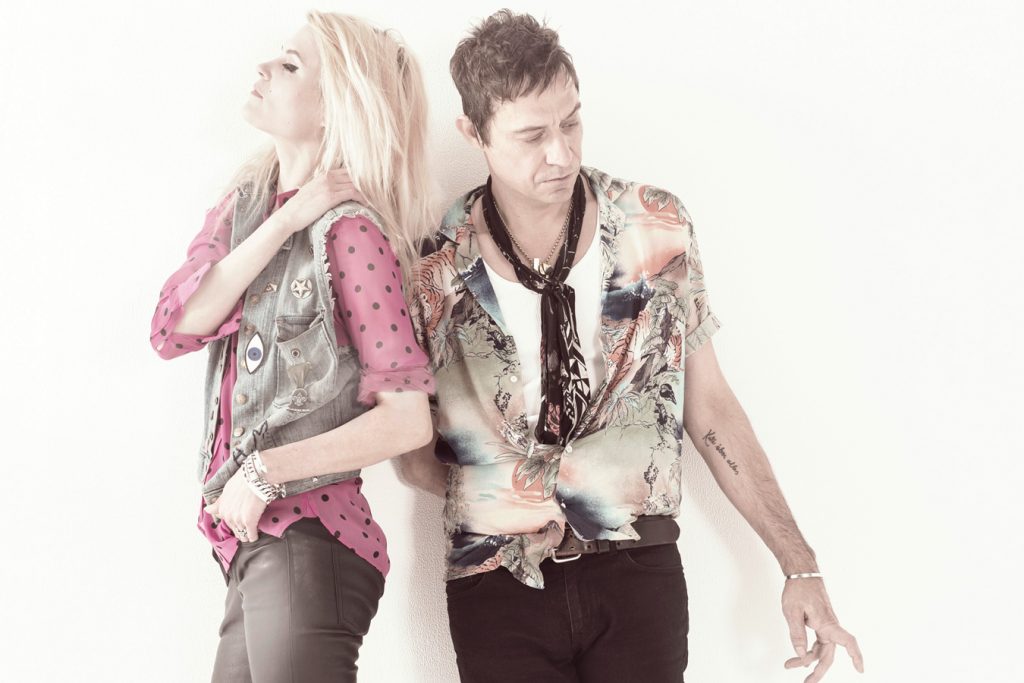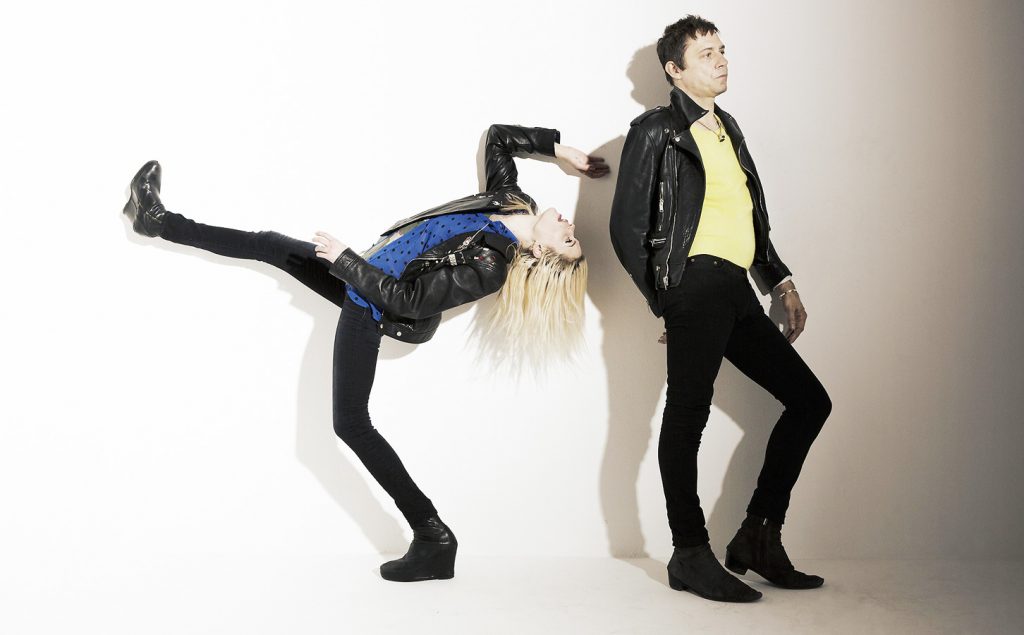 Midnight Boom was the pair's third studio album. As ever, there are elements of PJ Harvey, LCD Sound System (use of the wood block and interesting percussion) but thanks to Spank Rocks' producer, Alex Epton, a more modern funky sound. Not surprisingly, for a rock girl/boy duo, the Kills have been compared to fellow garage minimalists, the White Stripes. However, in this case, it's the female who leads the vocals.
If Brian Molko were a girl, he'd be VV. The first single to come off this, their 3rd album, "U.R.A Fever", with its heavy trip hop beats, only hints at the dirty grungy sound that is more present through. "Getting Down" and "Cheap" and "Cheerful" showcase their sparse, lo-fi, minimalist approach to songwriting as handclapping and drums are played in equal measure. Much more melodic is the Velvet Underground-influenced "Goodnight Bad Morning", all plucked acoustics and soulful vocals.
Like Detroit's Stripes, they have taken an anti-careerist, anti-music industry stance leading to accusations of hypocrisy in the face of a recording deal with RCA in the States. In interviews, they like to brazenly smoke. It seems they're a band who like to contradict – anti-smoking smokers, anti corporate label pushers – so it's no surprise that Midnight Boom is at once melodic AND screamingly loud. What it isn't, however, is anything new. That said, the band does a good job with post-Strokes, New York punk rock, and Midnight Boom will please any skinny jean, leather-jacket wearing indie rocker.
Fans of The Kills spotted the mendacity of the previous sentence and probably (rightly) guessed that Blood Pressures was another solid album of fundamentalist, primal noise. Throughout Hince plays his guitar like a framed prisoner scratching his last angry wishes on a cell wall, while Mosshart sings with the conviction and menace of a lying politician.
Where sorely-missed Detroit heroes The White Stripes had rabid but often bluesy moments in their cheap, thrilling canon, The Kills have always been dark and vicious, snarling punks with drum machines and lit cigarettes flicked into your hair. At its best, the material on this album matches the seductive, shop-soiled greasiness of early tracks like "Fried My Little Brains", from 2003. Future Starts Slow is marvelous. "You can holler, you can wail / You can swing, you can flail," Hince and Mosshart tell us like they don't care if they receive the ransom money or not. Satellite offers evidence of Mosshart's stint in The Dead Weather. When she sings the central refrain, "Operator, operator, dial me back / Operator, put me through," it's easy to imagine Jack White nodding in approval while an ace, syncopated Hince riff grinds away.
There are surprises on Blood Pressures. "The Last Goodbye" has the whimsy, reluctance and nostalgia of Sparklehorse circa It's a Wonderful Life, while album closer "Pots and Pans" could be a lost Beck track from the One Foot in the Grave days if the man had been possessed by Tom Waits before recording. It's this final song which poses the most interesting question on this great but at times predictable album: what terrific noise could The Kills make on an acoustic album?
By 2016 The Kills are now a certainty. Anyone can be able to exactly predict what you can find inside their disc: an alt-rock minimal and repeated endlessly as the most successful of copy/paste, where the voice of Mosshart serves as a distinctive and characteristic element to the harmonies designed by Hince.
Two friends-cum-soulmates finished their fifth album, Ash & Ice, in 2016. Unlike earlier albums, which have largely been written and recorded at Key Club Studio in Benton Harbor, Michigan, this one had a rather vagabond, as well as protracted, existence with the main bulk of recording taking place in a rented house in LA (using both Key Club's and Jamie's own mobile units) and at the world famous Electric Lady Studios in NYC. Begun three years ago, the project was derailed when Hince broke a finger. The first doctor he saw gave him a shot of cortisone, which caused a painful reaction giving the guitarist sleepless nights, undue misery and the loss of a tendon in his hand. "He couldn't play guitar," Mosshart says, "He began buying all these funny instruments that you would only need one hand to play." But the idea that he would never play again was unendurable, and Hince consulted another doctor. Five operations later, with time out for rehabilitation, Hince was ready to get back to work, but only after learning how to play guitar in a way that didn't include the previously important finger. It was during the guitarist's 18-month long recuperation that he first starting sketching out what would become the songs for the album, including the song that gave the album its title.
"One of the first songs that he brought for the record was called Ash & Ice, and we loved the title," Mosshart says. "I guess he was sitting at some bar or some party or someone's house, people were ashing into a glass of ice, that end of the night thing." In Hince's recollection, he was the ash-icer. "I had a drink, and I just threw my cigarette in this glass of ice, and it was just as simple as that. I liked the idea of it being these two opposite souls. I liked it being the idea of someone with a joint in one hand and a drink in the other." Mosshart likes the connotations as well. "I loved it because it's opposing ideas, because it's black and white and hot and cold and all these things. It is all sides of everything and at the end of it, maybe it's nothing but a memory, a cigarette in a glass of ice." The song itself underwent a change of title, to "Let it Drop" but the name remained for the album title.
Mosshart for her part didn't languish during her partner's recovery from surgery. She made a record with The Dead Weather, her side band with Jack White, as well as doing some serious painting. She'd always been painting backstage while The Kills were on tour — the prerequisite was it had to fit into her suitcase. But after moving to Nashville a few years ago, she moved into a formal studio space, which allowed her to work on bigger canvases, leading to her first solo show at New York's Joseph Gross Gallery last summer. Titled "Fire Power," it featured 127 paintings, drawings, mixed media, and tapestries. That was not to say she ignored the band.
During the past few years, she admits to having penned somewhere around 120 songs. But writing has never been a problem for Mosshart, who composes quickly and fearlessly, rarely overthinking, just letting the songs move through her, inspired by an overheard conversation, a mood, a person, or just the sound her turn indicator makes while she is guiding her muscle car through traffic. What takes the most time is writing separately and turning it into a cohesive whole. Mosshart expounds, "If Ash & Ice were a painting, it would be incredibly complex. It would be one that looked like it had been painted over and over and over and over. It would be so thick off the wall, it would be coming through the frame."
Explaining their unique and often-misinterpreted relationship, Hince says, "I still get this feeling that it's us against the world. I would take a bullet for that girl. I think she's absolutely fantastic, and I have no friendship like that with anyone else. When she has a passion for something it's just all or nothing. And I absolutely love that. We're creative and driven, and we're also competitive, and I think that's important as well. We're like two little fascists trying to be communists….I think we have mostly a healthy competitiveness. Sometimes we've fallen out over things. Sometimes you have to really struggle with somebody to get to where you're meant to be. I think in music you've got to be really careful about trying to get along. Compromise is the biggest enemy of any artist, and working in synchronicity is disastrous to a creative endeavor."
"I wouldn't say we fight actually," counters Mosshart. "It's like creative fighting. My songs will be so different than what he's coming up with, and The Kills is really the combination of those two things. That makes it really interesting to us."
They say that a journey of a thousand miles begins with a single step, and in this case, it began with a 6000-mile train trip. To shake up his writing process, Hince decided to book a trip on the infamous Trans-Siberian Express, crossing seven time zones. "I wanted to go away somewhere on my own and find out what I had in me. I just took my guitar, all my notebooks and a camera. The first thing I wrote was "Siberian Nights." I had this vision of the record being this icy, paranoid record as I was traveling through Siberia. But the rest of the songs are more about the emotion, the struggle."
Which is very rare for The Kills. Earlier albums had an air of detachment, an emotional austerity or just a psychic ambivalence about feelings, underpinned by an uneasy self-awareness and a seething, unexpressed anger. The 13 songs on Ash & Ice are more understated, less tempestuous and more affecting because of that, exposing the kind of push-pull you feel when you find yourself in a complicated but all-consuming relationship. "I'm really quite a private person that's found himself in this public world. But I felt this time I had to really lay myself on the line and be vulnerable when I was writing. I certainly didn't want to lay my heart on the line in songs, but the floodgates opened up for me anyway."
As the recording continued, at Jamie's rental house in Los Angeles and then at Electric Lady in Manhattan, the band found the whittling down and perfecting of ideas to be the most complex part of the creative process. Mosshart explains, "A record really is a result of changing ideas over time. To get to one place that's cohesive, and a lot happens from the beginning to the end. When we started this record, all of the songs that I had that I thought were going to be on that, they're buried under a sea of a hundred other songs, but they're all part of it. That's the stuff you don't see. That's what's underneath. Getting to that place and getting your writing up to scratch and your ideas to change. At the end, you have the thing, which is this flat disc that just seems so simple to everyone who holds it in their hand or plays it, and they don't have to hear the background noise. And that's fantastic, because that's the magic."
Ash & Ice, the resulting 'flat disc' is, says Hince, "the most forward thinking record we've ever tried to make." From the Trans Siberian Railway to the hills of Hollywood and to New York City via London and Nashville, The Kills' epic sonic journey meant discarding not just earlier material but also their own ideas on what it means to be a guitar band. There is a sense with both of them, that the two people who began this album weren't the same as the two that finished it. Hince concludes, "It's a not a retrospective, throwback album by any means. In fact, if anything it's running away from the past. It's a record of now and it's a record for the future."
To celebrate the 15th anniversary of their debut on the music scene the Kills released of a new extended play entitled Echo Home – Non-Electric EP this summer. Which features audio from a stripped down session the band captured recently at Electric Lady Studios in New York. Alongside "Echo Home", the EP features Ash & Ice track "That Love", a cover of Rihanna's "Desperado" (which the band originally played as part of a Sirius XMU session), and the song "Wait", off the band's first ever release, Black Rooster EP.
________
Photo Credits: Kenneth Cappello